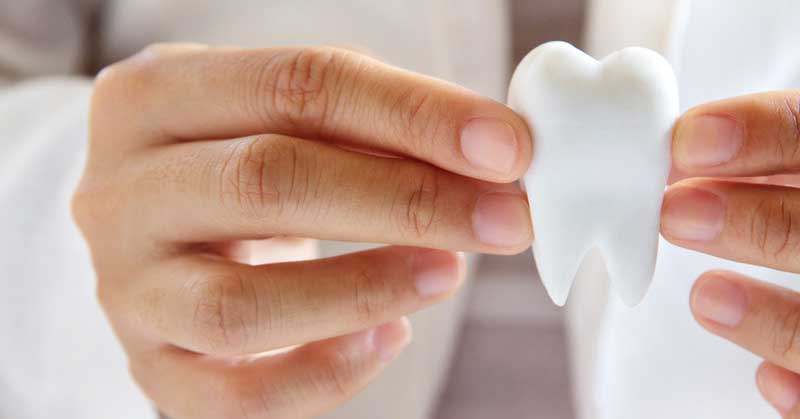 Tooth enamel erodes throughout life because of many factors. The foods and drinks we consume contain acid that can eat away at it. Saliva is an important part of the battle against enamel erosion; it can neutralize acid and nourish the teeth with calcium.
Stomach acid can be problematic as well. Conditions such as gastro esophageal reflux disease can cause stomach acids to reach the mouth, which are very conducive to eroding tooth enamel. A dry mouth can restrict how much saliva is available, so the teeth are not as protected as they otherwise would be. Common drinks that contain citric acid or phosphoric acid, and even fruit drinks, can be very erosive. Other factors include medications such as antihistamines and aspirin, genetics, and normal wear and tear.
Environmental Causes of Tooth Enamel Erosion
Friction from teeth grinding can damage enamel. Bruxism is a condition in which a person clenches or grinds their teeth involuntarily while they are sleeping. Tooth-to-tooth friction that can cause erosion is called attrition. There are also many abrasive factors. Hard toothbrushes or brushing too hard can wear down the tooth surface, as can flossing improperly or biting on pens, bottle caps, or fingernails.
A process called abfraction can erode enamel because stress fractures in the tooth degrade it. The tooth can flex or bend, leading to cracks and vulnerable enamel. Exposure to corrosive acids is particularly damaging, as already stated, but certain vitamins, medications, and other elements associated with one's habits can lead to erosion that can leave the underlying dentine exposed.
Plaque and Enamel Erosion
Comprising bacteria, saliva, and food particles, plaque forms on the surface of teeth as a sticky film. It can get inside holes and recesses in teeth, and even under the gum line. There are some bacteria that can turn food starts into corrosive acids that eat away at the enamel. Pits that form in the enamel can grow and increase in number over time.
Bad Habits Exacerbate the Problem
Consuming acidic foods and beverages, snacking frequently throughout the day, and not drinking enough water can increase enamel erosion. Drinking water improves saliva volume to protect the teeth. Chewing sugar-free gum with xylitol does as well. Without enough saliva, teeth-strengthening materials may not be present, leaving your teeth vulnerable to decay; following some important tips can at least slow down any erosion so enamel can be maintained for longer.