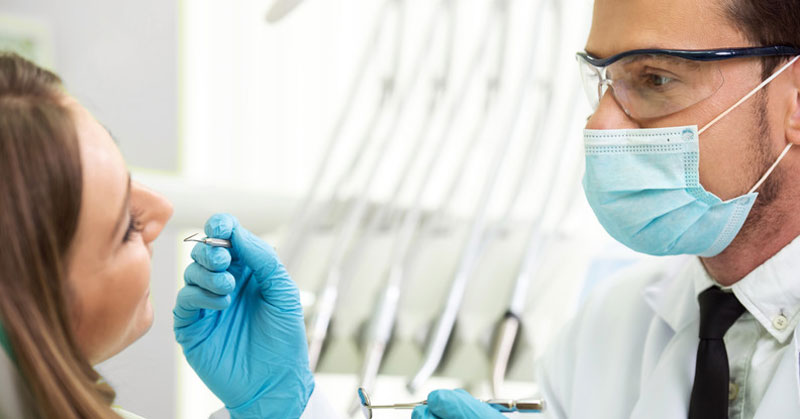 You know that your dentist is an expert at looking at teeth and telling whether or not you've been brushing, flossing, and rinsing with mouthwash regularly. What you might not realize is that your dentist can also tell a lot about your overall health just by inspecting your teeth.
In some cases, this could give you the impetus to seek out early testing that you might otherwise have neglected, catching conditions and treating them in a timely manner. While your dentist may not be able to diagnose certain ailments simply from looking at your teeth, the state of your mouth can certainly offer clues, so it's always a good idea to listen to your dentist's advice. What could this professional tell about your health just by looking at your teeth?
If You're Eating Right
Proper nutrition is important for your entire body, and when you're malnourished, it shows in a variety of ways, including in your mouth. When people stop eating or start purging, as with conditions like anorexia or bulimia, dentists can see the signs, including dry mouth, gums that are tender, swollen, and/or bleeding, and other symptoms. Stomach acids can also affect the inner side of teeth, damaging enamel. Dentists may spot such issues before a physician because of these signs and symptoms.
If You're Suffering from Certain Ailments
You might be surprised to learn that your dentist could spots the signs of conditions like anemia, osteoporosis, diabetes, HIV, and even dementia from the condition of your teeth and gums. Anemia often results in pale gums, while osteoporosis could present symptoms like weakening jaw bone that results in receding gums or loose teeth.
Diabetes causes myriad problems, possibly including bleeding gums, gingivitis, and trouble healing, while HIV could include symptoms like bleeding gums, mouth sores, and infections. As for signs of dementia, the onset of forgetfulness could mean neglecting regular dental care, resulting in worsening oral health.
If Your Oral Health is Putting Your Overall Health at Risk
Oral health is linked to overall health, although the causation (or which is responsible for the other) is not always certain. If, however, you're suffering from a serious oral health concern like periodontitis or abscessed teeth, there's a high risk of the condition affecting your overall health.
An abscess that enters the bloodstream, for example, could travel throughout the body, leading to pockets of infection in different areas, including the heart or the brain. This, in turn, could be dangerous or even fatal. In other words, it's always a good idea to maintain oral health in order to protect your overall health.