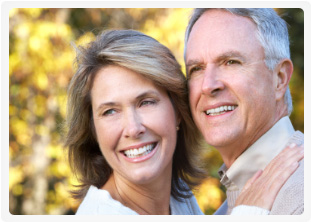 Teeth may be lost for a variety of reasons, whether through trauma or a health issue with that particular tooth or teeth. Removable bridges and partial or full dentures are all viable ways to regain the function and beautiful appearance of your teeth. However, many people feel that dental implants provide the most comfortable and natural feel.
What exactly are dental implants, are they right for you, and how can Austin Dental Center help you?
A dental implant is an artificial root that is placed into your jaw. Its function is to hold a replacement tooth or teeth or help secure a partial or full denture. This is beneficial for several reasons:
Dental implants securely hold teeth in place without affecting neighboring teeth or weakening them.
They hold bridges in place so you do not have to wear a removable partial.
They support dentures and partials, making them feel more natural and secure.
Dental implants do not feel unnatural; they feel and funciton like your own teeth.
For denture or partial wearers: Because the implants are integrated into your own jaw, like a natural tooth, you will not have to worry about the movement or looseness that occurs with partial and full dentures.
Dental implants are ideal for people who are in good general health, have solid oral health, including healthy gums, and have sufficient bone in their jaw to support the implant. Studies show that there is a 95% success rate over five years for lower jaw implants and slightly lower for upper jaw implants (there is less bone that is not as dense in the upper back jaw area). Implants are remarkably effective and have a good history of success.
Why Choose Austin Dental Center for Your Dental Implants?
We use specialists such as periodontists and oral surgeons to consult with you about the procedure and then to place the dental implants into the jaw. Once that is accomplished then you would return to Austin Dental Center for the restoration. Once your implant has fully integrated with the jaw bone, we attach an abutment, which is a connector that will join the implant fixture with the prosthetic tooth, bridge partial or full denture.
After the abutment is secured, the replacement tooth or teeth are put into place. In most instances, the crown or bridge is cemented into place, providing long term security and function. In some cases, particularly with some back teeth, the prosthetics are tightened on with screws or in the case of some partials or dentures specialized snaps are used.
Dental implants are highly successful and offer a great way to both enhance the appearance of your teeth and to preserve the health of your entire mouth. Having missing teeth is commonly a source of embarrassment, but with implants, no one has to know you were missing a tooth. And best of all you might just forget about it yourself because dental implants look and feel so natural.